Back pain. Neck pain. Shoulder pain. Chronic pain.
Neuromusculoskeletal dysfunction is a serious pain for up to 80% of us. When you support CCRF – with a donation or by getting involved – you accelerate our research so we can find solutions and improve treatment for NMSK sufferers in Canada and around the world.
Here are 6 ways you can help
Be a CCRF Networker. Spread CCRF and international chiropractic research news through LinkedIn, FB, IG and Twitter. Ask us how.
Donate big or small, once or once a month. Every dollar makes a difference.
Host a DIY Fundraiser. Compete with family, friends, clinic colleagues – even patients. It's super easy and everybody wins!
Live a Legacy or Leave a Legacy. Learn how you can make a lasting impact on MSK research and the chiropractic profession.
Hone your leadership skills. Are you a collaborative genius? A fearless fundraiser? A governance guru? Find out which CCRF volunteer committees are recruiting and how the skills you'll learn can advance your career – and your life.
Share your story. How does chiropractic research impact your practise and patients? Send us a video, an email or photo that shows how you've put chiropractic research to work in your clinic.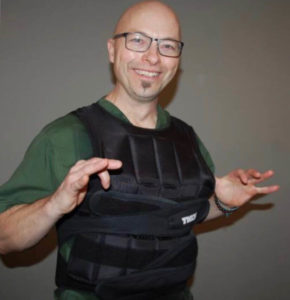 Dr. Vince Adams recently ran a 13.7 km charity race wearing a 100lb weighted vest to support mental health and CCRF. He raised $3000 and reached over 25,000 people through social media "The race wasn't easy, but it was worth it," he said. "If you get creative, raising money can be a lot of fun."